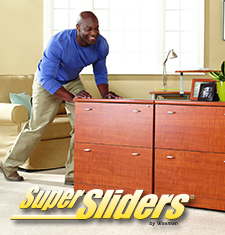 Slide furniture effortlessly.
You don't need to be a superhero to slide heavy furniture anymore. SuperSliders® allow you to move furniture across any surface – effortlessly. Use them when moving into a new home or apartment. SuperSliders are also the perfect cleaning accessory when you need get to those hard-to-reach areas behind couches, bedroom sets, and televisions. Or simply use SuperSliders when you're ready for a change and need to rearrange furniture in your rooms.

SuperSliders is the trusted, industry-leading furniture moving brand. Our top of the line product offering includes furniture sliders for both hard and carpeted surfaces for a variety of residential and commercial needs. Check back often for new, innovative products that make moving, rearranging and cleaning fast and easy.